Blog — heirlooms
Posted by Sheryl Lutz-Brown on
We hear a lot about items passed down through generations that are deeply cherished by families and hold a lot of sentimental value. These items are all heirlooms, yet as modern society and cultures advance, the word 'heirloom' has become associated with objects passed on that hold not only sentimental value, but monetary value. These kinds of things tend to fall under the categories of jewelry, antiques and luxury designer clothing.  Over the years, there have been many weird and wonderful artifacts left to loved ones. William Shakespeare left his second favorite bed to his wife… not his favorite, his...
Posted by Sheryl Lutz-Brown on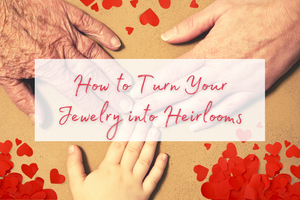 Many of us have had at least one heirloom passed down to us from our (great) grandparents. Be it a brass ring or a brooch, these treasured tokens are loved and cherished as they are a unique thing connecting us to our past loved ones.  Jewelry pieces have most often been used as heirlooms because of their monetary value, their aesthetics, and their durability. Heirloom jewelry pieces are also often either gifts, hand-crafted items, and/or bought and manufactured on special occasions, so their sentimental value rises, as well. A common misconception is that heirlooms NEED to be something ridiculously expensive...